Log into your Shopify admin.

Go to Settings > Accounts > Click Add Staff Account
Use the Name InkSewn USA and Click "Send Invite'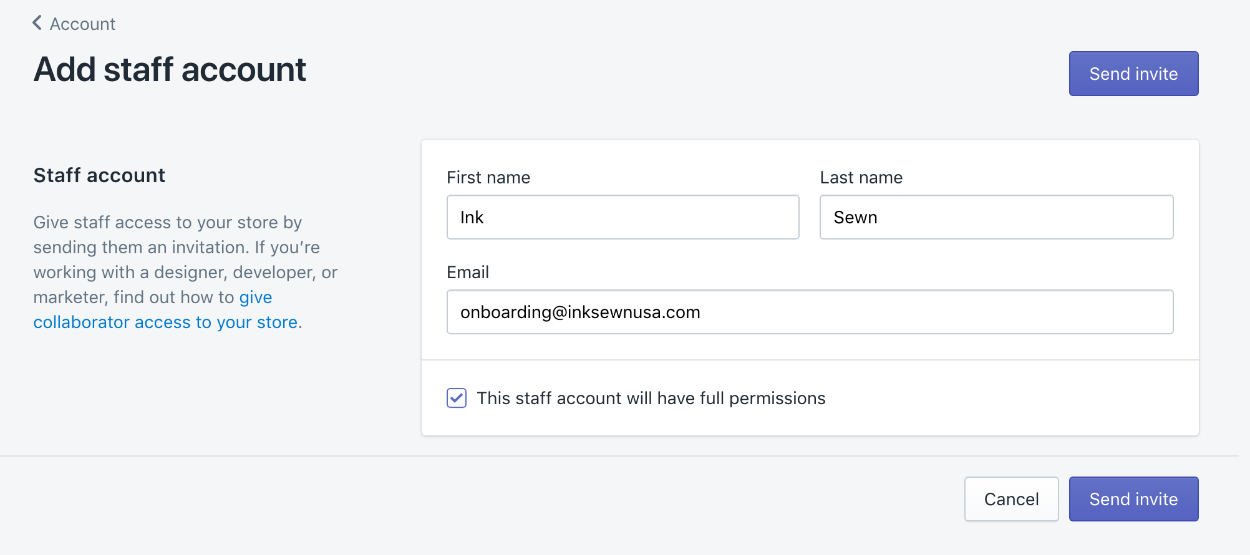 Login to your BigCommerce admin panel
Navigate to Account Settings and click on Users
Select 'Create a user account'
Enter onboarding@inksewnusa.com as the email
Select a 'User Role' for the select all permissions
Add New Users
To add new users to the 3dcart account:
Go to Settings =>General =>Administrator Access
Click the "+Add New" button at the top right
Enter onboarding@inksewnusa.com for the email
Enter the Username of InkSewn1
Enter the user's name of InkSewn USA
Enter a password for the account - Inksewnusa1 (uppercase "I")
Confirm the Password.
Click Add.
The user will be added, but you will still need to assign the access permissions for the user. Look for the newly added user and go to the far right of its listing.
Click on "Action ->Edit" to continue
---
Setting Up User Permissions
For each one of the administrator accounts you can specify which areas of the Administration Panel they will be allowed to go to.
Click on Full Administrator permissions to add them to the user and Save
To create an Employee account, just click on "Add new employee".
The "Add new employee" button takes you to the employee creation form.
It has some settings:
First name and Last name. The name does not appear to customers, but is very helpful when you need to know who did what on your shop.
Password. Try your best to not make it obvious. You would not want unknown people to be able to guess it.
Email address. This is the employee's back office login ID. If allowed to, the employee will receive customer emails and PrestaShop notifications on this address.